Learn more about the Virtual Wallet Student, an exclusive tool for PNC student banking customers.
The official bank of NC State
NC State has partnered with PNC Bank to make the best overal student banking program in the nation* even better. Not only do NC State students have powerful online banking/money management tools provided by the PNC Virtual Wallet Student, but they can also link their account to their Wolfpack One Card for pin-based transactions.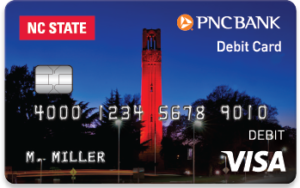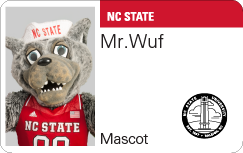 Students can bank for free for their first six years. Plus, we have an on-site branch and PNC ATMs all over campus, including:
Talley Student Union next to PNC eBranch
Talley Student Union – Exterior
Bragaw Residence Hall
Hunt Library
Opening an account is easy
Apply online today or stop by any PNC branch. Learn more at pnc.com/ncstate.
PNC Talley Branch
9 a.m. – 5 p.m.
Monday through Friday
Cameron Village Branch
(Nearest full-service branch)
9 a.m.  –  5 p.m.
In compliance with Department of Education regulation CFR 668.161 – 668.167, we are required to post the following information regarding cash management:
Total consideration paid in the period July 1, 2022 through June 30, 2023: $356,250.00 + $26,083.38 branch rent = $382,333.38

An additional benefit of our PNC Bank partnership is that the overwhelming majority of financial considerations paid to the university are applied to trademark licensing revenues. At NC State, trademark licensing revenues provide scholarship support to NC State students.

Total number of customers holding student financial accounts which originated under the contract from July 1, 2021 through June 30, 2023: 3,082
Mean student costs: $4.15 in the year ended June 30, 2023
Median student costs: $0.00 in the year ended June 30, 2023